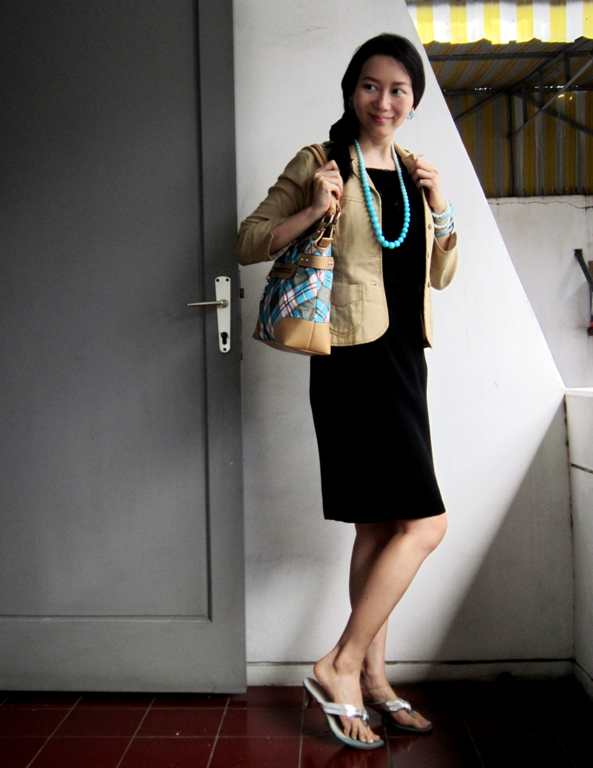 Do you know that generosity and doing good for others can make you feel good about yourself? I know that we should do good and help others without expecting anything in return, yet I have to admit that the warm fuzzy feeling, knowing that you have done something good, is kind of like caffeine. It's addicting.
Another thing that can get you addicted because it leaves you feel soooo good? Being grateful. Being thankful.
All month in January and February it's been raining cats and dogs all over Jakarta where I live. One Friday, the road in front of my house was flooded and the water started to enter my front yard. Brown, muddy, dirty, full-of-germs and trash river water. I skipped work, so did my husband. We watched as the water kept rising and rising, praying to God for the rain to stop. In the afternoon it did. Only to start again in the evening, non stop. By Saturday, we knew that there's no way to avoid the water flooding into the house. So we carried food and water and baby neccessities for our one-year-old and moved to the second floor. There was another story happened here, but I'll keep it for future post.
The rain lasted from Friday to Sunday. The road was unpassable. We were stuck. So what did we do?
We spent time as a family
We played with our little one. We laughed with him. We listen to the CD "The Sound of Music" and sang to him. We held each other, kissed each other. We talked. We told stories. We watched the rain. We worried together. We salvaged the furnitures together. We watched for the water rising almost all nights, three days in a row, together. We read the news over the internet. We called our parents. I even had time to sort my book collection and did a little bit of puttering. In short, those three days were uninterrupted family time, and it was simply wonderful. Precious memory.
We were grateful
Despite the flood, and the fact that we could not go anywhere, we still had enough food for us and the baby. Milk, biscuit, canned goods, bread, meat, even some meat and vegetables. We could still make fruit and veggie smoothies every morning. We were a little low on green vegetable, only green onion to make some hot soup and watercrest for the baby, but green onion, with potatoes, some carrots, macaroni and seasonings, made us a pot of hot, hearty soup that tasted so delicious on cold, rainy days! We ate it with hot rice. We also ate some fried chicken wings one day, and some ramen noodles with egg and green onion (what else) and fried shallots the next day. We ate toast and ommellette for breakfast. There was no lacking on food.
Also, we were so thankful to still have electricity and clean water. We were very lucky!
We prayed
We prayed before sitting down to eat. We prayed before we went to bed and after waking up. We prayed for the flood to pass.
We gave donation to charity
Thanks to social media! A friend of mine who lived in other part of the city where there was no flood, volunteered to help people who had to take refuge in emergency tents under the bridge in an area called Cililitan. These people, even with no flood, are poor. And the flood basically took away everything they had. So now they lived in drafty tents with minimum basic neccessitieis, damp, cold, wet and everything. Including the babies and the children. She broadcasted her intention through social media, and we reacted right away. Since our friend were going to volunteer, and the internet is still working, we transferred some money for her with specific request: "This money is to buy ready-to-drink milk for the children, for nutrition." It's not much money, but it can buy dozens of UHT milk.
We were so blessed that even while being isolated and surrounded by flood, we were still able to share His bounty with those in need. Flood also happened in other part of the country, and we determined to send clothes and stuff once the flood subsided. I happen to have another friend who organized charity projects like these, and it was just apt, since often we wanted to help yet we didn't know the channel to send the goods or the money to. Many so called charity organizations, we don't trust, because some of them just take most of the donation for themselves! Yep. It happens.
Now it's still raining, but the water has subsided and I'm back to work. The flood, like the one last year, turned out to enrich us more in more ways that we expected, and grew our faith in Him, who created Heaven and Earth, and the water and the rain. And the flood. *wink*
This in an ensemble almost a year ago, about six weeks or so after giving birth, to go to the office. I had a bad hair day, which explains why I braided my hair! It's just your basic, classic LBD and camel colored jacket, but I added some splash of turquoise colors in the bead necklace and my purse, to fresh things up a bit. I love classics, but they got me bored. Colors are the best way to make the classics and the basics not so ho-hum basics anymore.