Have you scanned through the women magazine racks lately? Or the relationship self-help section for women at your nearest bookstores? What did you see?
I don't know about you, but these are the messages I see.
"Men think about sex 75 times a day."
"Men have an urge to have as many sexual partners as possible. It's their nature. They are like bees, fleeting from one flower to another."
"Men and women are different. Men can have sex without love.

Women cannot. So, if you man goes astray, don't get too upset. "
"Man needs sex every day. If you don't give it to him, he will find someone else who will."
"Men can have sex without feelings. So, as long as he loves you, it doesn't matter who else he takes to his bed. After all, it's just sex."
"A one night stand doesn't mean anything. It's just fun sex, and nothing else."
"Women, you too, can have sex like a man. Let him taste a dose of his own medicine."
Browsing through all of those, I cannot help but thinking that those messages shape a certain image of what MEN are: male species with uncontrollable sex drive.
AND, we, women, in an attempt to understand, attract, and retain a man, have to give him a lot of sex, let him indulge in his need to have various multiple partners, and being understanding, even ACCEPTING, this nature of men.

After all, it's just sex. Not very important.
Well, I have to admit, I used to agree with all those media diet that I had been consuming since my teenage years. I hardened my heart not to care so that I'd be "ready" to accept that notion. I blinded myself to believing that sex is just sex. I fooled myself to think that when I have a man of my own one day, the important thing is to be the queen of his heart, if not in his bed.
Until, I have this conversation with a man whom I like and respect.

A man whom many other people, men and women, like and respect.
"All those media, all those women magazines, all those so-called feminists who teach women to 'have sex like a man' actually are quite beneficial to men. IF women want to bring out 'the jerk' side of men," he said.
"What do you mean?" I countered. "Don't you think it somehow levels off the field? That women are free to do whatever they are damn well pleased too, just like men have been doing?"
He looked at me as if I were a silly goose.
"Number one: is it what YOU really want? To become like men? What's so good about men anyway that women want to become like them?
Number two: do you really think that sleeping around and playing around is a positive trait?
And number three: if that behavior is NOT so good after all, why would women want to emulate a quality that they despise in men, for themselves?"
"But it's not fair if only men are allowed to fool around! Men cheat, sleep around, being infidel, and women cannot?"
He shook his head. "Men do not do all those things."
I laughed out loud. "Yeah, right! As if you don't have a great sex drive yourself."
He laughed at this, too. "Well, of course I do! But I mean it. Listen to me very carefully, LeeAnne.
MEN do not sleep around nor must have a certain amount of sex. MALE do."
"MALE animals cannot control their sex drive. But a man, a REAL MAN, is a male species AND a man human being. A man, just like a male animal, has animalistic urges and instincts. However, unlike a male animal, a man has self control. That is God's gift to human that differentiates us from animals, which are also His creation.
Therefore, an animal cannot control themselves. When it's mating season, they just have to have sex, with whatever female or females they happen to find.

As many as they can manage. During mating season, they are being controlled by this sex drive. That's the nature's way to ensure this species' continuity, for the females become pregnant and breed.
Men, on the other hand, don't have mating season. They control their animalistic urge, not being controlled by it. Why do you think we call it 'making love' instead of just plain sex?"
I asked, "Is that why you said what magazines teach us bring out 'the jerk' in a man?"
He grinned. "Women magazines make it very easy for us men to be infidel and sleep around, because they justify it, saying that we are just like animals, yada -yada. So yeah, they bring out 'the animal' in a man, because they treat us just like a male animal instead of a man. You women should give us more credit than that, you know."
"What about those men who boast about how many women have fallen into their bed?" I asked.
He shrugged. "I have to admit that I used to be one of them in my much younger days. But let me tell you something, I'd call them boys, not men. In doing so, they basically brag only about their MALEness, not their whole MANliness."
"So any man who cheats on his spouse over and over and makes excuse that 'he can't help it'?"
"Then basically he was saying that he is too weak to control that small part of the body that hangs between their legs. How pathetic is that…"
Then he said one thing to me that I would always remember: "We are men, LeeAnne.

We need women as women

, and you girls have much more power than you think you do.

Treat us like men, and you'll get the best of us.

Treat us like oversexed animals, then that's what you'll get. So help us here, won't you girl!"
"Then act like a gentleman, " I smiled.
"If you act like a lady," he smiled back.
Now, what do you think of that conversation, Friends?
These pictures were of me, being 18-week pregnant. I basically just wore my old pleated skirt, but I
changed the elastic waistband
, so the waist are became bigger. I basically try to stretch and make do with whatever I already have in my closet for maternity wear, because good quality maternity wear is expensive, and I'd rather spend my money somewhere else than on clothes that I'd only be wearing several times during a short couple of months period. I bought three maternity dresses to be worn later when I become really huge on the eight and ninth month, and that's all.
I love layering necklaces like this. On its own, the bead necklace doesn't look very pretty, but stack them together, and they look lovely! Same thing with the bracelets.
I love the sheen of this greenish mother of pearl earrings. The fact that they don't have identical patterns add to their natural charm.
I never thought that I could get away with these casual sandals for work, but you are pregnant, it seems like I don't have much choice but to wear flats, rite! Luckily the color and the bows are cute! Haha!
Linking up to:
"/>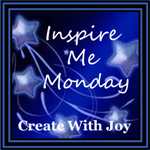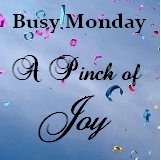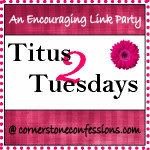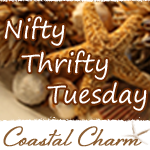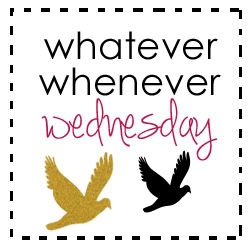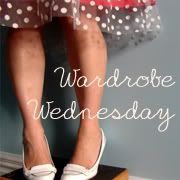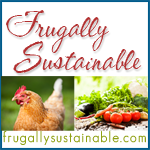 Random Wednesday