Note: I finally succumb to the temptation and open an Instagram account! I know, I know, I'm so late, but better late than never, rite. Haha! The thing is, I usually don't have good internet or wifi connection, so uploading pictures on Instagram takes waaaayyyyy too long! But wifi is a little bit better now! If you'd like to know what's going on in my daily life, please find
stylenseason
on Instagram. ^__^
What do you think when you see these pictures?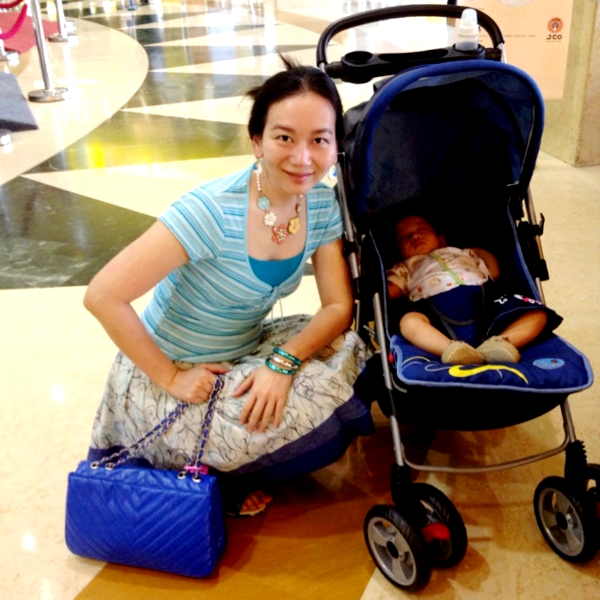 An outing at the mall of Mommy and Baby...
A happy family of three...
Yes, it was a supposedly happy family outing at a nearby mall. We didn't take Baby Michael out that much because we prefer to wait until he got all his basic shots completed before taking him everywhere with us. Some people might think that's rather extreme, but that's what my Mom did with me when I was a baby, and Baby Michael had not had any sickness until about his ninth month.
But anyway, what I was going to say is, right before we were out of the door, my husband and I had a big fight.
Can you tell from the pictures? I don't think so. I posted these pictures in my social medias, and my friends made positive comments about our little happy family. All smiles and so.
Well, we did smile again when the picture was taken, but the five minutes drive to the mall was silent and awkward. My husband didn't say anything and I stubbornly gave him the silent treatment in return.
The funny thing is:
I do not remember now what the fighting was all about, nor do I remember how we kissed and made up.
What once felt like such a big a deal, turned out to be not that a big a deal after all.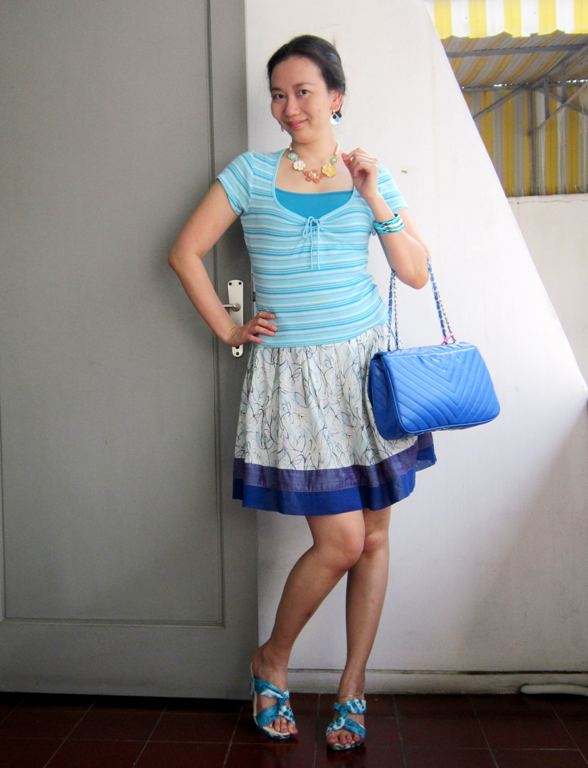 Lesson learned? It was not our first fight. It's not going to be the last. But after a while, it didn't matter anymore. We kissed and made up. We forgave and forgot. We didn't discuss the fight. We just moved on. Afterall, if we had to discuss every single argument we'll ever have, we would spend all time in our marriage to do just that. When we can spend our marriage life to... well, to live. Like playing with our son. Flirting and cuddling with each other. Having dinner together. Telling jokes. Trying out new restaurants. You know, all those domestic bliss that doesn't look too glamorous, but leave you feel warm and snazzy and comfy inside. Waaaaay much better than discussing our arguments and disagreement all the time. After a while, we agreed to disagree, and moved on. And having a lot of fun and love and happiness along the way.
We CHOOSE to see our life in rose tinted glasses. It's not being delusional. It's called growing up and making decision to live and see life in positive note, instead of in negative one.
What we remember now, is that was a swell Sunday family outing. My son will not remember what clothes he was wearing, what he was eating, what we were doing, but he will remember that he had a wonderful childhood with a mother and a father who love him and love each other.
Always pick your battles wisely. Sometimes, it's not worth a battle at all.
Every single item I wore in these pictures are the black sheeps. Well? What does it mean?
The blue striped tee is something my Mom bought during one of her annual trip to the US, and she ended up not liking it. So she gave it to me. The skirt has been in my closet for about three years, unworn. It was sewn together out of several different older clothes, and I didn't have a clue what I was going to wear it with.
The necklace. When I was going to buy it online, I didn't know how I was going to wear something so colorful and such a statement piece. Well, I'm sure if you're a regular reader you have seen this necklace in display many, many times.
Same thing with this bag. None of my friends supported my decision to acquire this blue purse.
Turned out that I like every single one of them! No regret in having them afterall!